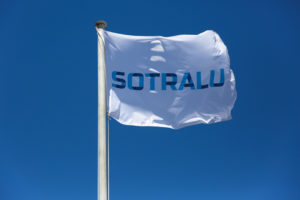 Sotralu has been the European leader of accessories for aluminium joinery for several years.
As an illustration of its ambitions and value acquired by the brand, mainly at the international level (present in China, India and Middle East), the company has decided to adopt a new brand identity.
The new logo, for which letters have been specially designed, is made of transparency, metal reflects and game texture. Aluminium, glass, design, industry, innovation and quality make up this creation which reflects the company and its development soundness. Sotralu Group (which includes Sotralu, Erreti and GNS) expects a turnover of 50 M€ in 2020. Sotralu Group rolled out the brand last summer.